Klamki, gałki, żyrandole czyli – nie samą modą żyje Swarovski!
2018-10-09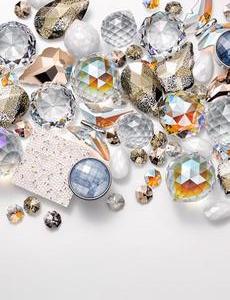 Każdy, kto choć trochę orientuje się w szerokim asortymencie firmy Swarovski, wie, że nie ogranicza się ona tylko do biżuterii i mody, ale oferuje również wiele ciekawych rozwiązań dla projektantów wnętrz, mebli i oświetlenia. Opiszemy Wam dzisiaj pokrótce ofertę katalogu ARCHITECTURE & LIGHTING COLLECTION 2017/2018, do zapoznania się z którym serdecznie Was zapraszamy :)
Od pałacu królewskiego w Wersalu, na przedmieściach Paryża, poprzez budynki oper i teatrów w największych metropoliach, nieskromne rezydencje rosyjskich magnatów, aż do prywatnych domów i mieszkań w prawie każdym zakątku globu, wszędzie tam możemy spotkać się z niesamowitym efektem oświetlenia stworzonego dzięki kryształom firmy Swarovski.  Bogata oferta SWAROVSKI STRASS® LIGHTING COMPONENTS zawiera szeroką gamę wzorów, kolorów i efektów, od klasycznych po nowoczesne,  dzięki czemu pozwala projektantom oświetlenia rozwinąć skrzydła wyobraźni i tworzyć unikatowe wzory i kolekcje, dostosowane do preferencji każdego klienta.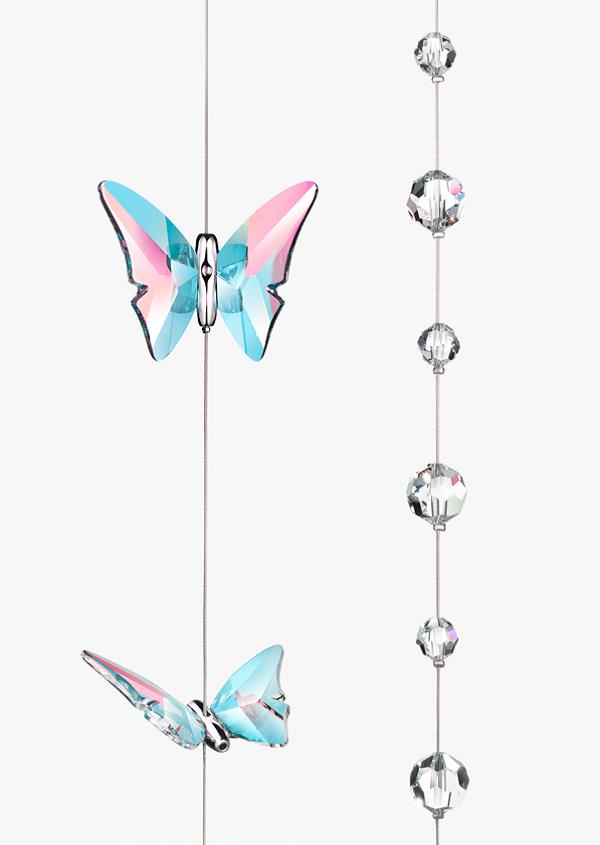 Bardzo często wykorzystywane są również, znane nam ze srebrnego ekranu SWAROVSKI CRYSTAL STRANDS, czyli sznury ze stali nierdzewnej z wplecionymi kryształami, z których tworzy się spektakularne zasłony i kurtyny, jak te, które nieraz mogliśmy oglądać podczas wręczania Oskarów.
Sami zauważyliśmy ostatnio wzrost zainteresowania ofertą firmy Swarovski wśród firm produkujących meble, od mniejszych, po większe, od typowo tapicerskich, poprzez łazienkowe i kuchenne meble na wymiar. Tutaj troszkę namieszamy, bo nie możemy mówić o meblach zamykając się tylko w katalogu ARCHITECTURE & LIGHTING, a nie dodając jednego produktu z głównej oferty firmy, czyli guzików 3015. Od lat, wszystkie meble typu Chesterfield, ozdobne zagłówki, piękne pufy i siedziska, ozdabiane są przez najlepsze firmy tylko guzikami firmy Swarovski. Naprawdę widać różnicę, precyzyjne cięcie, krystaliczny blask, rewelacyjna jakość, to cechy, dzięki którym finalny nabywca przez wiele, wiele lat, będzie mógł cieszyć się meblem wysokiej jakości.
Możemy zakończyć już tę dygresję i wrócić do oferty na klamki i gałki, bo czy można wymyślić lepszy dodatek do pięknie wykonanej szafki niż lśniąca, elegancka, kryształowa gałka, wykończona stalą nierdzewną? Bogaty design, ciekawe wzornictwo, piękny efekt końcowy, to główne cechy, dzięki którym rozwiązania proponowane przez firmę mają swoich zwolenników wśród projektantów z całego świata. Od samych zakończeń, poprzez gotowe już uchwyty z instrukcją montażu, wszystko to można znaleźć w katalogu i wprowadzić do swojego domu.
W ofercie pojawiły się również rozwiązania wykorzystywane już na etapie wykańczania wnętrz, wyobraźcie sobie kryształowy panel ścienny, wykończenie w salonie, czy w kuchni.  Najnowsze rozwiązania wprowadzone do oferty są tak niesamowite, że najlepiej, jeśli każdy z Was, osobiście zajrzy do katalogu i wyrobi sobie zdanie.